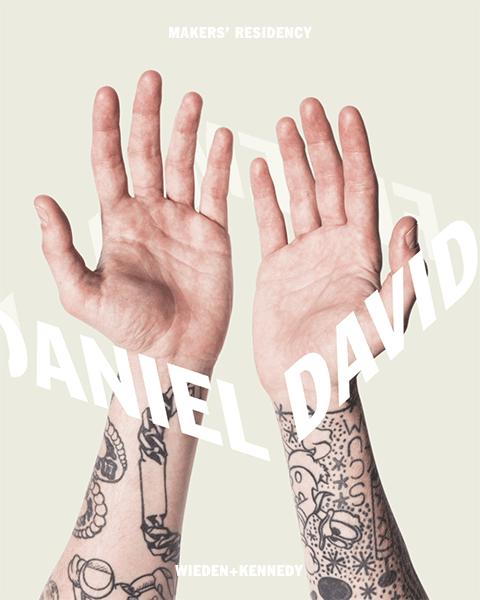 In March, W+K London will open Makers' Residency, a curated creative work space at the office gallery space. We'll collaborate with local makers and provide work space for them to create, exhibit and trade; as well as celebrating and sharing their talent with the public. The first artist to join Makers' Residency is Daniel David Freeman, a mixed media artist based in London.
Dan has previously illustrated for Frank Ocean and Adidas, designed T-shirt graphics for 4ad and Boiler Room. He has also created animations for Converse and exhibited works on paper at two solo exhibitions at London's former Beach Gallery. His latest work combines his interests in East Asian textiles and military folk art traditions. The work on show will consist of a series of converted and adapted ready made flags, vintage military fatigues and antique handmade Japanese kimonos. Dan has used embroidery, acrylic paint and enamel paint to create a series of (some more than others) 'wearable' artworks under the moniker 'Expensive Shit.' This ongoing project also includes Japanese fishing boat flags and a series of 'battle flags' from the Vietnam war. By embroidering these formerly functional pieces with found icons and imagery the artist has used a kind of textile collage to elevate them into works of art.
Makers' Residency will be located in the large window on Hanbury Street at Wieden+Kennedy's London office. Passers-by will be able to view the work space from the street throughout the residency. The gallery space will be available to view only by appointment and accompanied by the artist.